Hope For Hearts Photo Gallery click on gallery name to view
November 27, 2012 - Aidan gets ready for a diagnostic cath.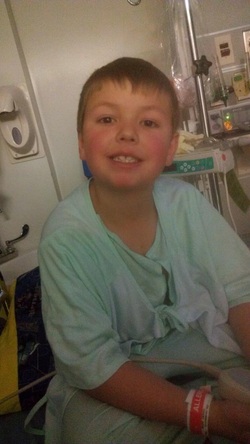 It's been an emotional few days for the LaForest Family as Aidan's diagnostic cath approached. Having this procedure done not only affects Aidan but his entire family as well. Aidan has had his typical anxieties about being cut open, "the mask" used for ansethia, and seeing his mom as soon as he can. His younger brother Gabriel worries about his Big Brother. Aidan at 8 years old and Gabriel at 7 years old - understand the complications and risks involved in this procedure. Being on of the more non-invasive type procedures it is still a scary time for Aidan, Gabriel, and the rest of the family. Today, SUPER AIDAN will undergo his 4th heart cath procedure. This procedure takes roughly 2-3 hours depending on what the doctors see, should they find any "extras" such as collateral coils (extra veins), etc. the procedure could take much longer. Post Cath the recovery is 4-6 hours with very close monitoring and laying still. "Laying still" something adults struggle with - can be very difficult and just no fun at all for an 8 year old boy that is constantly on the move.

Aidan went into his procedure at about 9:30am. Prayers, calming thoughts, and healing vibes are welcomed by Aidan and his Family.

At 11:47am - Jamie LaForest updated her Facebook status to: Aidan is DONE.....did GREAT and looks PERFECT! Can't get any better then what he is!!! NO pulmonary hypertension either.....his pressures were great only 1 medication would be needed if he had pressures 18-20. Everything looked PERFECT! Aidan even woke up and THANKED his team.... Love this kid!! Thank you for praying for him! Xoxo All smiles and just waiting to get back to see him. Hoping recovery goes smoothly!!

THANK YOU TO ALL THOSE WHO WERE THINKING ABOUT AND PRAYING FOR AIDAN AND HIS FAMILY!!
---
May 20, 2012
Polish Army Veterans Post 95 - Wyandotte, MI
approx. $2,000 Raised
September 23, 2012
City of Taylor - Heritage Park Petting Farm
October 2, 2012
Oakwood Hospital Main Campus
---