Awareness Bracelets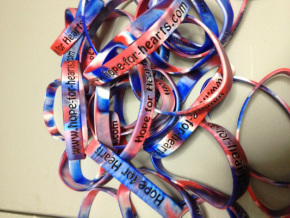 They are $2 each or 3 for $5

To Purchase Bracelets: Visit the Awareness Shop



---
Purchase a Cookbook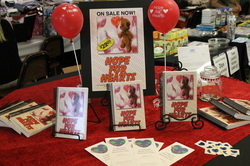 Cookbooks are $20.00 each
To purchase a Cookbook: Visit the Awareness Shop


---
Purchase The Faces of Hope and Healing Calendar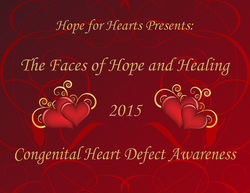 Calendars are $15.00 each or 3 for $30.00
To Purchase a Calendar: Visit the Awareness Shop

The 2014 Faces of Hope and Healing Calendar will be available for purchase November 4, 2014.


We feature faces from Deleware, New York, Texas, and Michigan

---
Past Events
Check out our Past Events, Photo's of Event, and Ammount Raised -
HERE
Get Involved with Hope for Hearts
Hope for Hearts is always looking for eager and enthusiastic volunteers! If you are a Heart Family or if you have been touched by someone affected by a Congential Heart Defect WE WANT YOU!
For more information about becomming involved with Hope for Hearts please contact: Becky Zavalney -
becky@hope-for-hearts.com
Want to be featured in The Faces of Hope and Healing Calendar?
We are NOW ACCEPTING PARTICIPANTS FOR 2016 Faces of Hope and Healing Calendar!!
Hope for Hearts would like to Thank all of our participants in advance and we can not wait to work with you on the 2015 Calendar!
We are always looking for new faces to show the world. If you or your family is living with a CHD and you would like to be featured in an upcomming calendar please contact: Alexis Kur -
alexis@hope-for-hearts.com
Please send a brief description of how a CHD has affected you or your family along with your inqury. We are also looking for Angels for the Memorial Month.
---